Roof repairs in Reading
We're a team of experts understanding that, regardless of the repair you need, sooner is always better than later. We've a long list of previous roof repairs in the area, and are always only too happy to cast a trained eye over your problem and provide you with a free quote with no obligation to hire.
How can we help with your roof repair?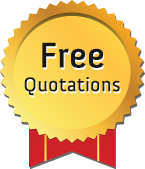 With a long list of local clients across Reading, chances our that we've worked on a property similar to yours. From parish churches to local pubs, we've consistently delivered a good job for a fair price, and left in our wake a trail of satisfied customers.
From replacing a single slate or tile following strong winds, through to re-seating ridge tiles, fixing or repairing dry verges or valleys, or replacing a full roof, we're the repair team to call.
We're experts at repairing roofs. We only hire top quality employees and only source the best materials.
We've worked on a wide variety of different roofs in Reading, including felt, flat, pitched, tile, slate and fibreglass.
We understand the importance of a long term, high quality repair, and always avoid unnecessary delays.
All our roof repair work, no matter how big or small the job, comes with a full guarantee.
When repairing your roofs, we understand that you want a job well done, but also don't want to be paying over the odds. We're professional, dependable tradesmen who can be relied on for any and every roof repair, from quick fixes to long-term jobs.
We've received great feedback on both our work and our high levels of customer service, and this is something we're always keen to continue. After all, our future reputation relies on it.
Call today
We are only a phone call away. Contact us on 0118 305 9125 and we'll gladly talk you through roof repair options, or arrange a time to visit your property and provide a free quote with absolutely no further obligation.